Short (30-45 min) live demonstrations on popular topics, followed by a 45-min Q&A, offered each month from 5:30-7 pm Pacific Time on the second Sunday of the month.
Second Sunday Demos are temporarily suspended due to technical problems. Updates to the situation will be sent out via my email newsletter. 
As most of you know, I am living and working in my camper van for the next year or so. My internet access is via a cellular hotspot, with limited high-speed data. I have discovered that live, interactive video with a group can unexpectedly use enormous amounts of data due to factors I can't control. Public wifi rarely has enough bandwidth for live, interactive video with a group.
I am looking into alternative formats that would still allow for questions, but I don't know enough right now to say more. Updates will be posted in the newsletter. (You can subscribe here.)
Aug 10 (postponed until further notice) — Mastering Negative Thinking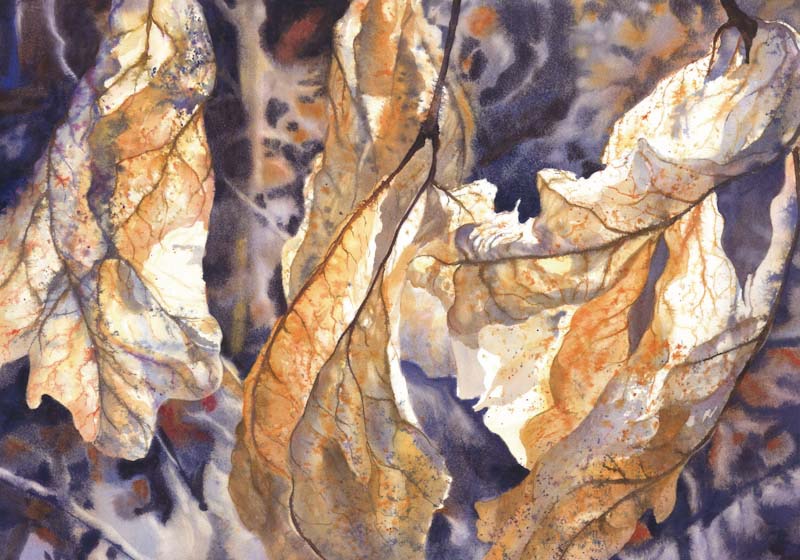 I'll be traveling in rural Canada and Alaska for much of August, and will probably not have fast enough internet access to troubleshoot video upload problems. I hope to be able to upload this demo sometime in September. 
Negative painting requires us to override the way our visual system is designed to work. Our eyes and the visual part of our brains are designed to identify "things" so we can navigate the world and work with tools and objects around us. Negative painting requires us to find shapes that are "not things". Our brains resist! (Good thing, too, because when we leave the studio, we still want to be able to eat dinner!)
In this video, I'll demonstrate a few exercises you can use to help yourself make the shift to seeing and using "negative space" in your paintings.
Sep 14 (pre-recorded)— What's on Your Palette?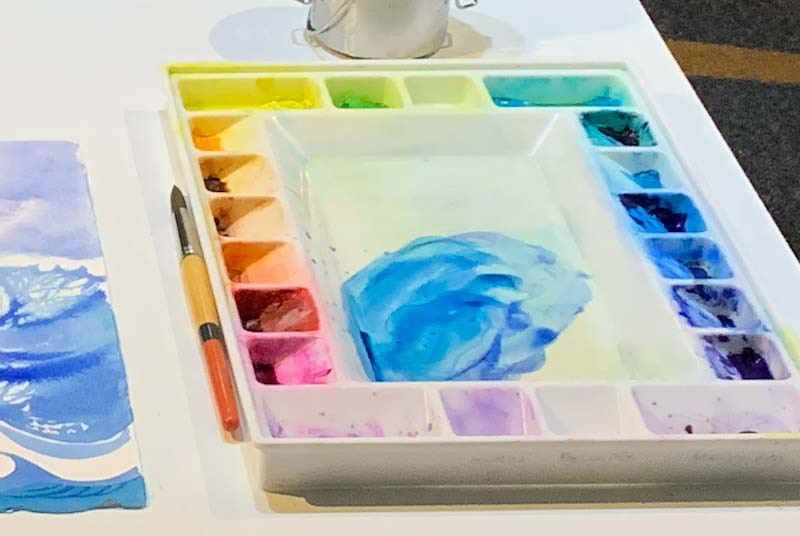 A lot of people have asked me to talk about what brands of paint I use (most of them!) and what colors I have on my palette (way too many!). I'm always sort of at a loss, because I am constantly playing around with what colors I have on my palette. I'm just as much of a sucker for a cool new (to me) color as the next person. Isn't that just part of the fun of watercolor? 😉
Also, because everyone's monitor displays color differently, there's no guarantee what you see on my videos looks like what I'm seeing in my studio. 
But I decided to take a stab at answering some of the the REAL questions behind this request, like "How do I decide which colors I should have on my palette?", "Should I use staining or nonstaining colors?", "How do I know which colors are sedimentary (and why should I care?", etc.
In September's demo, I'll talk about how to go about choosing a palette of colors that works for you and your favorite subjects and style of painting. I'll share a couple of starting collections you can use to build your personal palette, depending on what you like and what you usually paint. I'll talk about how to incorporate new colors so that you can really understand and use them.  I'll show you how I arrange my colors, and give you some alternatives to try. And I'll talk about how to use the colors you have so that you always have harmonious color in your paintings. 
Videos and Handouts from Previous Demos
A recording of the demo portion of each Live Demo, and any handouts, will be posted here approximately 1-2 weeks after the demo is presented. (For privacy reasons, the Q&A portion is not recorded.)
Mar 10: Get Ready for Spring Plein Air Painting
Gather your materials and test your setup indoors now to be ready for plein air sketching when nice weather arrives. In this demo, I'll show you several different options for light, packable watercolor sketching kits, and give you a few tips for selecting a manageable subject from the sometimes overwhelming wealth of options when working on location.
Apr 14: Fifty Shades of Grey—The G-Rated Version (Video will be posted soon)
Do your shadows look like cardboard cutouts or dull, lifeless holes? Do you struggle with creating believable neutrals for things like tree trunks, rocks or weathered buildings? Do your clouds look like aerial dust bunnies?
Mixing your own greys can help you achieve lively shadows, believable neutrals and airy, light-filled clouds. And it's also a great way to learn to easily and intuitively mix colors across the entire spectrum, because it quickly fine-tunes your ability to recognize direct complements.
I'll be demonstrating some of my favorite mixtures for grey, including a secret for mixing greys to create a sense of warm light glowing behind the edges of clouds. Bring your questions about greys and shadows and neutrals—and a favorite combo for mixing grey to share, if you like.
May 12: Tips and Tricks for Florals
No more teeny timid lonely blossoms floating in a mishmash of streaky, muddy color. In honor of Mother's Day, let's take a look at some tips for creating bold, lively florals in watercolor. We'll talk about design tricks that help you handle out-of-focus, wet-in-wet backgrounds, tips for using a variety of types of edges to suggest depth and give the illusion of petal and foliage textures and how to create a sense of light falling on or glowing through leaves and petals.
Jun 9: Beyond the Brush—Suggesting Bark, Rocks and Foliage
Cancelled due to technical difficulties.
Bring your sense of adventure for this one! This will be my first attempt at bringing you a live demo on the road—woohoo! Should be exciting!
Welp.  As you may have figured out; there were technical problems and this demo didn't happen "live". I'll be sharing this demo in a taped version as soon as I get my cameras working properly.
Some of my favorite tricks for suggesting bark, rocks and masses of foliage in landscape paintings. 
Jul 14:  Finding Focus Working on Location
Have you ever gone to some beautiful location to paint or sketch, and then found yourself so overwhelmed with so many fabulous—and complicated—things to paint that you wind up spend the whole time running around looking for a subject? Or you just take a zillion photos, because you just can't see any way to paint all that in a short time in the field?
Have you ever come back from a trip like that and struggled to capture the real feel of the place in a painting, even though you did take a zillion photos?
In this demo, I'll talk about some strategies I use to manage the overwhelming amount of information when painting on location, so sketching enhances my enjoyment, instead of raising my stress level. And so I have a better chance of coming back with photos and sketches that I can actually use to create satisfying, personally meaningful paintings.